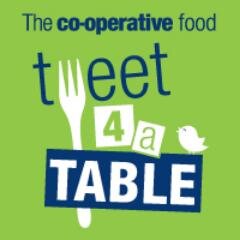 A few weeks ago now the lovely people over at the Co-op invited me to have dinner at the pop up restaurant in the heart of Liverpool. The Tweet 4 a Table campaign was running across 5 cities around the UK and included the unique premise that you simply tweet and ask for a table and dinner is free.
The menu was cooked entirely from food available at the co-op which meant that recreating the meal at home would be so simple.

If you would like more information on the campaign and your chance to win a table either have a look on the website or search for @Tweet4aTable, on twitter.
I mean who doesn't love a free dinner !